n the 1920s, three of the most popular fiction characters
were Mr. Tutt, Charlie Chan, and Philo Vance. Mr. Tutt was a lawyer (creator: Arthur Train), not a detective, but stories about him often concerned crime and legal matters. Earl Derr Biggers' Charlie Chan is important because he was probably the first Chinese detective in fiction. S.S.Van Dine's Philo Vance was once very popular, but his significance for us lies partly in the fact that he drew attention to the American form. He also was a great influence on the early Ellery Queen. Dannay recalled, "...Van Dine influenced us because he made so much money; and then, the kind of thing he did appealed to us in those days. It was complex, logical, deductive, almost entirely intellectual..."
(Nevins)
When the cousins entered the McClure contest Van Dine was at his peak of success. The influence their idol had is obvious. As JJMcC pointed out Ellery Queen retires to Italy: exactly where Van Dine had said Philo Vance had retired. Ellery Queen is a pseudonym to conceal the real identity of the sleuth as was Philo Vance. They both like to use pompous literary references. Vance got access to the crimes through his friend Markham while Ellery's connection to the investigation was given by his father. Sergeant Velie, Doc Prouty and even Djuna all had a counterpart in the Van Dine novels as respectively Sergeant Heath, Dr. Doremus and the butler Currie. Ellery Queen (detective and author) went through several distinct changes in his series. Gradually, he developed a more personal style, although he always was faithful to the puzzle plot, intuitionist tradition of the Van Dine school. Along with Agatha Christie and John Dickson Carr, he was one of the three major writers of the puzzle plot detective story. As Jon Tuska pointed out Ellery Queen carried the classical plot as pioneered by Van Dine forward for another generation and created a haven for those readers who wanted to believe even for a moment or two, that the complexities of modern life could be reduced to a mere problem in deduction.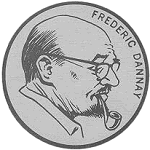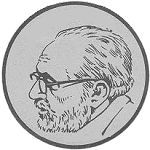 Poe was one of EQ's favorite writers. However, Queen's solution to the concealed object problem are slightly different from Poe's. In "The Purloined Letter", the missing letter is concealed in a conspicuous place, one that is so "obvious" that no one looks there. EQ's approach is related, but somewhat different. In EQ's tales, a public ritual of some sort is often taking place. There is a container at the center of this ritual, and the missing item is hidden inside the container. For example, in "The Trojan Horse", there is a football game about to begin, and the missing gems are hidden in the football itself. The containers can seem like womb or egg symbols. Often they will be propelled or ejected outside the perimeter of the main search area. The propulsive device is often another object, one with phallic or male symbolism. In "The Trojan Horse" these propulsive figures are the football players themselves.


Another strong influence on the early Ellery Queen was Conan Doyle's Sherlock Holmes. A sick 12 year-old Frederic Dannay was given a copy of the Adventures of Sherlock Holmes and he fell for Holmes' intellect. As an editor, Queen compiled a collection of parodies and pastiches called The Misadventures of Sherlock Holmes. As a detective-hero, Ellery Queen has been called "the logical successor to Sherlock Holmes." As a writer he spiritually followed Holmes, and there are echoes of Holmes in many early stories, particularly the short stories in The Adventures of Ellery Queen. The next great impact proved to be an even more shattering experience: Maurice Leblanc's Arsene Lupin, that hero of extraordinaire verve, supreme cockiness, and flaming spirit. He was the "cool man", whereas Holmes was, by comparison the "cold" man, and Lupin's appeal to Fred's emotions was more compelling than Holmes' appeal to his intellect. In Fred Dannay own words: "Maurice Leblanc's plots, in books like 813 (his masterpiece), had an enormous influence, technical and creative on my own imaginativeness and I acknowledge this debt after all this years."