fter only three months of courtship, Manny Lee married Kaye Brinker, an actress in radio (EQ radio plays!) in the 30s & 40s,

on July 4,1942.

They had eight children. Four boys; Anthony Joseph, the eldest son, died in 1987 of a heart attack; Manfred B. Lee Jr.; Rand Lee, has published several horticultural books en some sci-fi stories and Jeffrey Robert, the youngest son who died in 1990 of AIDS. Four girls: Jacquelin; Patricia; Anya and Christopher Rebecca ('Kit'), the youngest sister..
In 1943, reportedly, the cousins earned over $50,000 a piece per year, mostly from the radio adventures. Manny and Kaye moved to a charming old rented house at 5 Canon St.,Norwalk (Conn.)where they lived with his two daughters by his first wife, Kaye's daughter (Anya) by her first husband and their own newborn daughter Christopher Rebecca. Fred and Mary still lived in Great Neck but Mary had cancer and was bedridden at home. Fred is remembered as keeping to himself and collecting stamps (of animals and ships). During 1943 some reruns were broadcasted and the cousins used the time to write The Murderer is a Fox

(1945). In June of 1945 Mary Dannay was near death (she died that year) and Fred had to make arrangements for him and his two sons so he stuck to editing EQMM, some anthologies and the plotting of new Queen-novels. As they had previously done his work for radio was farmed out to Anthony Boucher. Boucher being a more religious man brought this aspect to the Queen persona...which was taken over by the cousins e.g. in Ten Day's Wonder

(1948). After Mary's death Dannay sold his house and bought another on Carroll Street, Brooklyn, Mary's sister and her husband moved in to take care of the boys. Fred dealt with his grieve as only a workaholic could. In 1947 he remarried Hilda Wiesenthal (related to Simon Wiesenthal!), widow of a doctor

Isadore Silverman who died in the Battle of the Bulge in World War II

, and they bought a small home in the quiet Larchmont on 29 Byron Lane. In April of 1947 as the radio drama moved to Los Angeles, Manny and his family went along. During the 1947- 48 series Kaye Brinker stepped in to play Nikki Porter. But the series came to an end and the family returned to the East Coast making home in suburban Connecticut, first in Westport later in Roxbury.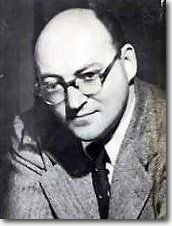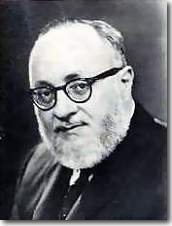 On a 63 acre estate Manny raised his children, looked after his animals and collected stamps, medals and records. He worked in his study in a converted colonial schoolhouse on his grounds. The cousins at their writing-peak then wrote Ten Day's Wonder (1948), Cat of Many Tails (1949) and Origin of Evil (1951). After Lee married the cousins rarely visited each other. As they frequently phoned each other their writing methods were unorthodox. Unlike many detective writers who habitually start with the solution of the crime and work backwards, Dannay and Lee begin most any place, developing their plots from such random starting points as an exceptionally unusual clue, a remarkable suspect or a strange background. The Queen collaboration evolved over time. "Clash of personalities is good for the ultimate product. And we fight like hell. We're not so much collaborators as competitors. It's produced a sharper edge."(Schenker) According to Dannay, they tried "every form of collaboration known to man" before they settled on a system that suited them. They refused to discuss their system, but in years since, their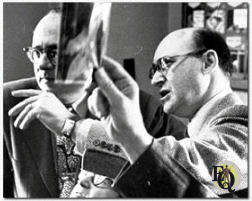 children have revealed that Fred plotted all the novels and short stories, creating the characters and providing Lee with detailed skeletons that Manfred fleshed out. Their talents determined this arrangement. "I'm sure Dad could never have come up with the sort of plots Fred did" son Rand Lee said in an interview. In any event, the collaboration, though loyal, was not always peaceful; the cousins frequently raged at each other, and that passion can be seen in some of the books. Rand Lee continued: '... Dad and Fred's differences were not only professional. Often I would pick up the phone, hoping the line was free, and put down the receiver moments later with Dad and Fred's arguing voices in my ears. On one occasion, Dad threw down a plot outline and exclaimed, "He gives me the most ridiculous characters to work with and expects me to make them realistic!" Cousin Fred probably felt some frustration about Dad's treatment of his plots....'
The fact that they continued together may be as simple as 'they needed each other to create'.
"The three biggest writing principles Dad taught me were (1) read omnivorously, (2) write every day, (3) and when you've finished your first draft, go back and cut out all the adjectives and adverbs, including adjectival and adverbial phrases and clauses. Then, on the second draft, put back in only those absolutely necessary to carry your meaning.