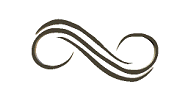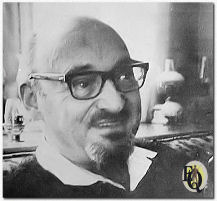 red wanted to continue writing Queen novels either alone or with someone else. But faith hadn't forgotten him. In 1972 his second wife Hilda also died of cancer and now Fred, who had diabetes, also started to die. Still editing EQMM kept him going on. Fred began dating a woman he had known for a long time, and she too was diagnosed with cancer.

Above right: Fred Dannay in 1973, the year after Hilda's death.

In came Rose Koppel who had been widowed for less than a year when she was invited to attend a New Year's Eve party in Larchmont, New York and was introduced to the only unattached man at the gathering, Fred Dannay. They connected and began dating almost immediately. It was only somewhat later in their courtship that he told her that he was better known under the pen name of Ellery Queen. They were married in November 1975 at New York's Plaza Hotel, although the marriage almost had to be postponed when the rabbi scheduled to perform the ceremony suddenly died of a heart attack. (Nevins)
This marriage saved him and for the last years he enjoyed the media-exposure to the fullest. This included the first of two trips to Japan where they were invited as guest of Fred's Japanese publisher Kozo Igarashi. "The absolute unexpected adoration, adulation and hero worship that greeted him in Japan was entirely beyond what he imagined or expected. It was a fitting reward for him." (Rose Koppel, 2016)
On March 14th 1978 the Parker Brothers International CLUE Championship was held in New York's Biltmore Hotel. Among those who came to participate in or observe the two rounds of the contest where Isaac Asimov, Frederic Dannay, Walter Gibson (creator of The Shadow), Brian Garfield and James Grady. These and other mystery writers pitted their crime solving skills against New York Police Department Detectives. The CLUE champion crowned was mystery writer Percy Spurlark Parker.
After having appeared on The Dick Cavett Show, in May 1978, Fred made a trip to Israel in October. His interest sparked by And On the Eighth Day and Rose could tell he had emotional reactions to seeing the scrolls and documents of second-century findings at Masada and the Qumran cave because of their connections to his book.
Fred also appeared as himself, in December 1978 in two TV episodes of the 6 part BBC documentary Crime Writers directed by Douglas Argent. The 25 minute episodes are called "Murder for Pleasure" (with Stanley Ellin, Brian Garfield, Denis Healey) and "Puzzles, Pure and Complex" (with Patricia Hodge, P.D. James, Julian Symons and Colin Watson). Although the series was published as book Crime Writers: Reflections on Crime Writing by H.R.F. Keating, Dannay however was not in it.

Early 1979 at the Lotus Club in New York an Ellery Queen fiftieth birthday party was held, celebrating the anniversary of The Roman Hat Mystery. Some 130 persons attended. Fred enjoyed the experience thoroughly but also pointed out his sadness that Manny Lee wasn't there to share the honor and pleasure.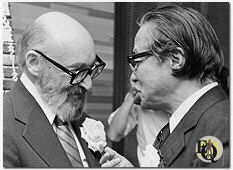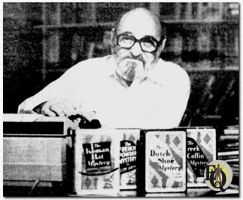 Above left: Picture taken during Fred's first visit to Japan in 1977 (believed to be at a party given by Seicho Matsumoto, Japan's leading mystery writer).
Above right: America's master crime solver, Frederic Dannay lurks between the covers of every Ellery Queen mystery (March 1979).

Fred was given the honorary doctorate "Doctor of Humane Letters" at Carroll College in Waukesha, Wisconsin (April 17, 1979). Plans almost became unstuck when Fred declined to make the learned address. Fred believed he was not a public speaker. Most would say he was never more profoundly wrong about anything in his life. They got a panel to ask Fred leading questions. Everyone gave Fred a extended ovation, whilst Fred was deeply moved by the experience. (Allen J. Hubin)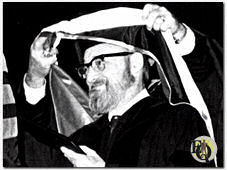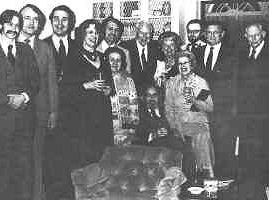 Above left: Fred receiving the hood of his honorary doctorate at Caroll College in Waukesha, Wisconsin. (1979)
Above right: Part of the group who gathered at a reception in President's Cramer's home after the ceremony. Around Fred, seated, with his wife Rose at his left, are from left to right: Steve Stilwell, Al Hubin, Mike Nevins, Marilyn Hubin, Don and Marge Pendleton, Ned and Cathy Guymon, Randy Cox, Bob Fish and John Ball.
That same year Fred and Rose were invited to attend the Tokyo premiere of the Japanese movie Calamity Town. To their surprise this second trip to Japan also included a visit to Bangkok. They returned via London where for the last leg of their return flight home they took Concorde.
On June 15. 1981 Fred and Rose attended the third Crime Writers' International Congress which was held in Stockholm. The international jury, with Fred in it, chose the unknown Frank Sisk, a 65 year old American journalist, as winner in the short-story competition with "A visit with Montezuma". Which not only resulted in a publication but also an automobile. Mr. Sisk drove through the Connecticut Valley with his contest prize, an $18,000 Saab 900 Turbo. Many other detective writers attended. In the picture below of the attending writers they are just visible in the back (click on the picture below for a bigger view).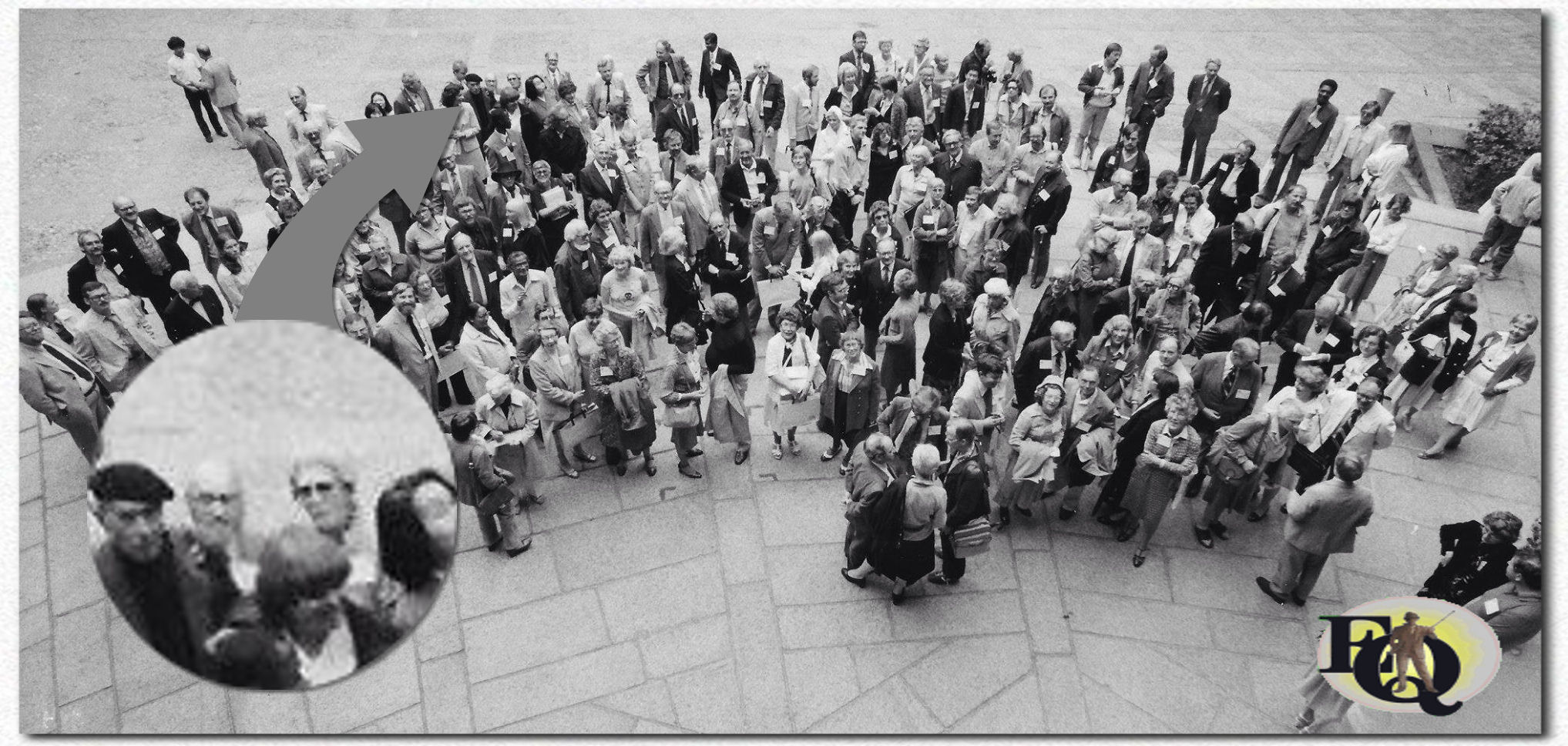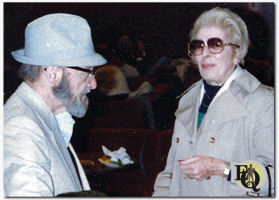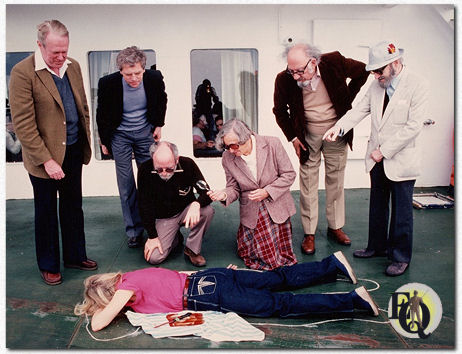 Above left: Fred and Rose attending the Crime Writers' International Congress in Stockholm.
Above right: At the congress they were given a day trip by ship to Åland on Saturday June 20, 1981. A photo shoot was arranged some time on the trip. L to R: Hillary Waugh, Peter Lovesey, Desmond Bagley, Dorothy B Hughes, Julian Symons and Fred Dannay (a.k.a. Ellery Queen). Peter Lovesey believes the "victim" was Carolyn, the former wife of Otto Penzler, owner of the Mysterious Bookshop, New York. (Courtesy of Peter Lovesey).

After his 75th birthday he began to deteriorate quickly. All in all he would be hospitalized several times. The last time after becoming ill two week earlier while at Fire Island and returning to his Larchmont home. After this third hospitalization that 1982 he died on September 3. Fred, who had diabetes, died off natural causes in the White Plains Hospital.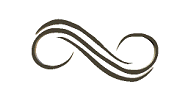 Fred provided Rose with experiences she had never had before. After he died, she was still revered by the Japanese EQ Fans (who often referred to her as "Mrs. Queen") and she was the guest of honor at the wedding of the daughter of Fred's Japanese publisher. In 2014 Rose Dannay celebrated her 100th birthday throughout the month of September. At that time Fred's Japanese publicist paid her a visit, which reportedly pleased her greatly.
Rose lived in her NYC apartment for 61 years and above her favorite chair in the living room hung a beautiful portrait of Fred that she painted.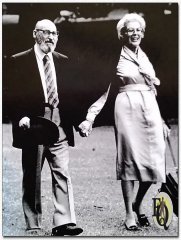 In 2010 Rose Dannay self-published her autobiography, My Life With a Man of Mystery: The Love Story of Ellery Queen and Me. (republished in 2015 as My Life with Ellery Queen, A Love Story with an introduction by Mike Nevins.) An article by Tina Chandler had this to say: "Maybe it's her life experience, but Dannay knows some of what scientists have been working hard to discover—the secrets to happiness. A self-described naturally happy person, Rose Dannay loved going out with her famous, but rather private, husband. When he received invitations, "He kept saying 'no,' and I kept saying 'yes.'..."
Above right: Picture from the cover of My Life with Ellery Queen, A Love Story by Rose Koppel Dannay.

Mrs. Dannay passed away December 6. 2014. She was 100 years, 3 months, 2 days old.