n 1933 both cousins tried their hands at a magazine entitled Mystery League which only delivered four issues and failed. To quote Manfred B. Lee : "Mystery League Magazine was the child of the Queen imagination and early ambition. It was published on the proverbial shoelace... Fred and myself were the entire staff. We did not even have a secretary. We selected the stories, prepared copy, read proofs, dummied, sweated,...and almost literally swept out the office as well."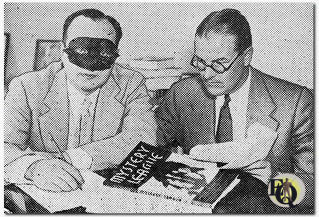 Above: Lee as Ellery Queen (still in full Barnaby Ross/Ellery Queen mode) with publisher Sidney M. Biddell (R) whilst signing the first copy of the magazine (Oct 1933).

Sidney M. Biddell, previously failed with his Mystery League books, which used a newsstand and cigar store outlet at 50 cents a copy, now revived the idea in the form of a magazine called Mystery League. It contained in each issue three or four times the wordage of each of the former Mystery League books. In with Biddell on the business end of the new Mystery League Magazine was Karl J. Weimer.
A fifth number was assembled but never printed. All covers were photographs by Ben Pinchot and the illustrations by Eugene Thurston. Whilst laboring over Mystery League they did acquire expertise on anthologies...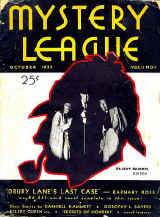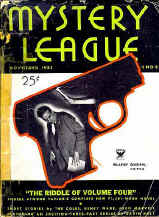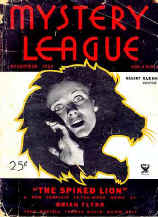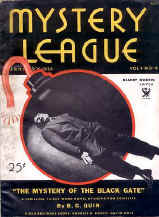 Ellery Queen's Mystery Magazine was launched in the fall of 1941 when Dannay persuaded Lawrence E. Spivak of The Mercury Press (who subsequently founded and hosted the popular TV show Meet the Press) to let them take another try at a mystery magazine. EQMM quickly became, as it remains today, the top publication of its kind. Largely the brainchild of Fred Dannay, EQMM not only gave Ellery an outlet for their short stories which was self-owned but also it gave other authors the opportunity to showcase their works. They considered the so-called pulps unsuitable for their purpose because often the stories were poorly written or "trashy." And so, EQMM started as an experiment: