ollowing a discussion in March 2002 in a readers forum regarding the novel And on the Eighth Day Dale Andrews

tried his hand at writing a "new" form of pastiche. It provides an epilogue to the existing story. Dale has been so kind allowing me to put it here. It comes, of course, with a spoiler warning so ... if you haven't read the original story look away now!
It eventually led to the writing of the pastiche "The Book Case" by Dale Andrews

and Kurt Sercu (EQMM, May 2007) the story had an elderly Ellery Queen aiding Harry Burke to find the culprit. Ellery is called in since the victim is found amidst a collection of his Ellery Queen books...


Maxwell E. Siegel's "Once Upon a Crime" was written in 1951 but was publicized much later in 2007 (Old-time Detection Issue N°16 ) it had all Ellery Queen characters (including JJMcC) reappearing and it had Ellery deciding to have, next to his own name, three "non-existent names" on his plate glass of his office at 545 Fifth Avenue: Frederic Dannay, Manfred B. Lee and Barnaby Ross". Nikki reverted to being called Sheila Brent and Mrs. Ellery Queen appears to be Paula Paris! Lee wrote to Mr. Siegel that despite the story's merits: "... this is the one kind of story we simply may not consider. For the editor to glorify himself in his own publication is unthinkable, not to say poor business."

Matthew J. Elliott is, by his own admission, an award-winning screenwriter, author, voice-over artist, presenter, editor and contributor for RiffTrax from Lancashire, England. His 2008 miniseries The New Adventures of Mickey Spillane's Mike Hammer starring Stacy Keach was nominated for an Audie Award.
"I became a mystery writer because of Ellery Queen. Hilary Caine wouldn't exist were it not for Ellery."
His "tongue in cheek" Hilary Caine mysteries are set in "The Golden Age" of 1930s British mysteries. Hilary Caine is a young woman with a unique gift for solving crimes. She is employed by the English tabloid Tittle Tattle Magazine as their private investigator. She solves the crime, they write the story.
First published in 2008, there are already 25 Hilary stories to listen to.
In the September/October 2009 edition of EQMM we find a prequel to "The Book Case" by Dale C. Andrews

, entitled "The Mad Hatter's Riddle." Set in 1975, Ellery is called to Hollywood to serve as an advisor on the NBC Ellery Queen series for the filming of "The Mad Tea Party" episode, which fans will remember was the only episode in the series based on an authentic Ellery Queen story. Unfortunately (no surprise!) things go very wrong on the set ...
"And you, El, are also looking fit. Still writing those convoluted whodunits?
No. I gave up writing detective stories about four years ago. I still edit the magazine. I guess it's my vineyard."
Ellery Queen's Mystery Magazine also put up a teaser on this page...where the story was excerpted.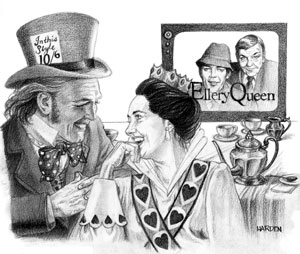 Above: "The Mad Hatter's Riddle" by Dale C. Andrews

Art by Laurie Harden (by permission Laurie Harden & EQMM).


David Marcum had a JJMcC moment when he wrote the introduction to The Papers of Sherlock Holmes (2011) in it he describes how he found Watson's notebook containing original untold Sherlock Holmes cases in his aunt's house!
David told us he tried to write in Watson's traditional voice. Ellery is mentioned in a very small way at the end of the book, in one of those Untold Tales that Watson refers to but never actually writes. In this case, it is in reference to an investigation in which Ellery and the Inspector, along with several other of the Great Detectives, helped Holmes and Watson during a time they were in New York.


December

2013 welcomed another
Dale C. Andrews

pastiche in EQMM called
"Literally Dead" and it involved

a return to that New England town who's town square was in fact round... There we find Ellery investigating the mysterious death of a well known author. Wrightsville, a locked room and a dying message! What more could we ask for! (To hear Dale Andrews reading his story "Literally Dead," click on the EQMM podcast icon ....)



In honor of the 75th anniversary (2015-2016) of Ellery Queen's Mystery Magazine

Rand B. Lee posted a very enjoyable pastiche on Facebook "The Polish

Chicken Mystery". In Which Miss Marple, Sherlock Holmes, and Ellery Queen Attempt to Solve the Baffling Mystery, "Why Did the Chicken Cross the Road?"



When Josh Pachter

began work on Misadventures
(2017), he re-read The Tragedy of Errors and got inspired when he found three cases for something Ellery Queen called "The Puzzle Club".

There were five Puzzle Club stories in all. The three collected in Tragedy of Errors were first published in 1971, "The Three Students" and "The Odd Man" in Playboy and "The Honest Swindler" in The Saturday Evening Post. (The other two were older, first published in 1965 — "The Little Spy" in Cavalier and "The President Regrets" in Diners' Club Magazine — and reprinted in 1968 in Q.E.D.: Queen's Experiments in Detection.)

The central concept of the five-story EQ miniseries — which Isaac Asimov later co-opted for his much longer run of Black Widowers stories — was that six friends gathered at irregular intervals for a gourmet dinner, but before sitting down to eat one member of the group was ensconced in what was called "The Puzzle Chair," and the other five presented an invented mystery for the evening's designated solver to tackle.
The group consisted of Syres (a wealthy oilman, whose Park Avenue penthouse was the setting for the club's meetings), Darnell (a criminal attorney, known as "the rich man's Clarence Darrow"), Dr. Vreeland (a noted psychiatrist), Emmy Wandermere (the Pulitzer Prize winning poet), Dr. Arkavy (the Nobel-winning biochemist) … and, of course, Ellery Queen (the famous novelist and sleuth). The five stories share several common elements: Dr. Arkavy is always absent (off lecturing at an assortment of international conferences and symposia), it's always Ellery's turn to sit in the Puzzle Chair, and each story is interrupted by the classic Queen "Challenge to the Reader," in which we mere mortals are given the opportunity to match our wits with Ellery's.

"My first thought was to pick up where Dannay and Lee left off and set my own Puzzle Club story in 1972. But at the same time I was working on this story, I was also writing one to celebrate the fiftieth anniversary of the appearance of my own first contribution to EQMM, in which the protagonist of my first story is now fifty years older and challenged by the memory of a murder he failed to solve fifty years previously.
With that in mind, I decided to set my Puzzle Club story in the present day, too, making the regular characters fifty years older than they were when last we saw them. And I also decided that it was about time Dr. Arkavy put in an appearance."

His idea for a brief puzzle story seemed well suited for the Puzzle Club, so he wrote it up, titled it "A Study in Scarlett!" and submitted it to EQMM. Janet Hutchings

liked it, got approval by the Dannay and Lee heirs and it appeared in EQMM's May/June 2019 issue.

Enjoying the experience Josh set out to write four more Puzzle Club pastiches, and then after they'd all been published in EQMM, intends collecting the original five and his new five in a single volume: The Puzzle Club, by Ellery Queen and Josh Pachter

. Janet liked the idea in principle, and Richard Dannay, who represents the heirs, was enthusiastic.

Since the first Puzzle Club story's title is a Sherlock Holmes pun (on A Study in Scarlet), he

thought it might be fun to use Holmesian puns for the subsequent stories in the series — and, since the first one puns on a Holmes title that involves a color, I thought it might be extra fun to continue in that vein.

His second Puzzle Club story, in the January/February 2020 issue of EQMM, is called "The Adventure of the Red Circles" (punning on "The Adventure of the Red Circle"), and the third,

"The Adventure of the Black-and-Blue Carbuncle" (from "The Adventure of the Blue Carbuncle")

appeared in November/December 2020 issue .

Unsure what to call the fourth one, several other Sherlockian color titles came to mind ("The Five Orange Pips," "The Adventure of the Yellow Face," and "The Adventure of Black Peter.")

Josh finally settled on "The Five Orange Pipes"

(EQMM Jan/Feb 2021). For the fifth, he is going to use one more Sherlock Holmes pun, but this time without a color. In 1917, Sir Arthur Conan Doyle wrote a Holmes story called "His Last Bow," and Josh plans to call this Puzzle Club story "Their Last Bow."

In this final pastiche, he wants to make it impossible for anyone ever to write another one. "No, I'm not going to kill Ellery — I wouldn't want to have his death on my conscience, and the heirs and Janet would never let me do it, even if I did want to. But something's going to happen that will bring the series to a logical and inevitable conclusion." (4)





September 2019
Dale C. Andrews

received a contract from Ellery Queen's Mystery Magazine for his fourth short story, titled "Four Words," this Ellery Queen pastiche appeared in the September/October 2020 issue. J.J. Mc Cue appears as a main character.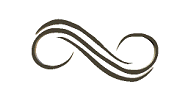 llery Queen is probably the only author who became the
leading character in a mystery pastiche. James Holding, who wrote the juveniles wrote a series of pastiches, estimable mysteries in their own right. In these series King Danforth and Martin Leroy creators of the detective "Leroy King" solve crimes on their own during a round-the-world-tour. The titles of these stories evocated the early Queen-work.

"The Norwegian Apple Mystery", November, 1960
"The African Fish Mystery", April 1961
"The Italian Tile Mystery", September, 1961
"The Hong Kong Jewel Mystery", November, 1963.
"The Zanzibar Shirt Mystery", December, 1963.
"The Tahitian Powder Box Mystery", October, 1964.
"The Japanese Card Mystery", October, 1965.
"The New Zealand Bird Mystery", January, 1967
"The Philippine Key Mystery", February, 1968.
"The Borneo Snapshot Mystery", January, 1972.
Martin and King find out stories which sound too great to be true and they start to come up with their own explanations. Great fun if you're familiar with Author, Author!
In 2018 Crippen & Landru provided a collection which included all ten stories in the series along with a brief biography of Holding and the most comprehensive bibliography of Holding's short story works.

Above right: In 2018 Crippen & Landru provided a collection which included all ten stories in the series along with a brief biography of Holding and the most comprehensive bibliography of Holding's short story works.


The author-editor appeared even less disguised in two mysteries with a MWA background:
In the first Robert Arthur's "The 51st Sealed Room" (EQMM October 1951) begins at an MWA meeting in New York, with a number of inside-jokes and comments of special interest to mystery authors and goes on to murder. One of the authors he pays homage to is EQ. There is mention of EQMM's annual contest. Also, someone who has come up with an idea for locked room story says: "...when Carr and Queen and the others upstairs read it, they'll wonder why they didn't think of it themselves."


The appearance of Dannay as editor is more substantial in the next example. Brett Halliday is another mystery writer anxious to give the impression that MWA gatherings lead to murder. His 1954 novel She woke to Darkness begins at the annual MWA murder award dinner. Narrator Halliday gets into serious trouble after picking up a girl there and is forced to call upon Mike Shayne for help. During the dinner, Frederic Dannay asks Halliday to write another story for the EQMM contest. Manfred Lee is also mentioned; he was forced to stay home because of illness in the family. This actually also resembles the plot from a Columbo-episode "Murder by the Book" .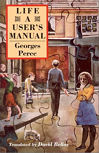 In Chapter 87 of his wonderful 1978 La Vie mode d'emploi (Life, a User's Manual, 1987) the modern French author Georges Perec imagines the career of an art critic named Charles-Albert Beyssandre forced by circumstances to write under various pen-names; among the eight which Perec cites are "Fred Dannay" and "M.B.Lee". (Maxwell Siegel "The French Author Connection" Old-Time Detection Dec 2009) In several of his other works Perec alludes, directly or indirectly, to Ellery Queen (Rémi Schulz)

The first half of Tetsuya Ayukawa's "The Autograph Card of Queen" (1986) is non-fiction. It's Ayukawa's account of meeting Dannay in 1977 in Japan. The second half is fiction. It involves a stolen autograph-card (with Dannay's autograph on it). (Masatoshi Saito)
In 2002 Taku Ashibe wrote Tragedy of Q aka The Adventure of The Two Man with Black Masks (Q no Higeki - Mata wa Futari no Kurofukumen no Boken , published in Mystery League, Tor Books). Professor Cotswinkel's dead body is found in his research room in the Detroit Public Library. The last person who spoke with the professor claims he said he had just met Ellery Queen. But which one? There are two "Queens" in town since both Lee and Dannay posing as Ellery Queen and Barnaby Ross are present to speak. In true style

Ellery Queen and Barnaby Ross, solve the crime live in front of their captivated public! (Ho-Ling Wong)

In Masatoshi Saito aka Steven Queen 's "Drury" (2012) one of the Queens cousins gets involved in a car accident and is found by Annie, who also happens to be Barnaby Ross's greatest fan (and she hates Ellery Queen). Having found the name card of Barnaby Ross among her patient's possessions (thus finding out that he is Ross), she tells "Ross" that she is not happy with the conclusion of Drury Lane's Last Case and forces him to write a continuation that suits her taste. A really funny story, because it plays perfectly with the confusion that arose from

having the two cousins playing both Ellery Queen and Barnaby Ross. The moment Annie begins to think that her patient Ross is actually Queen is both terrifying and hilarious at the same time! The continued stories of Drury Lane are also good for a great laugh. "Drury" is also an effective Misery (Stephen King) parody and does contain heavy spoilers for Drury Lane's Last Case.(Ho-Ling Wong)