In 1997 a 1977 Kyotaro Nishimura story was translated into French. Nishimura was born in 1930 in Tokyo and belongs to the second generation of Japanese detective writers. Together with Matsumoto Seicho and Akagawa Jiro he is one of the most popular writers in his country.

What would happen if Maigret, Ellery Queen and Hercule Poirot met in Tokyo? Their rich host certainly seems to know. Solely for his pleasure to see his favorite detectives at work. One other old Japanese detective is present: Kogoro Akechi, the hero in the books of Edogawa Rampo.
The book confronts the techniques of each of the master detectives with the Japanese culture. Two years before this Tokyo gathering the city was hit by a spectacular theft. 300 million yen was mysteriously stolen without any trace. Following a few clues and using the outline of the psychological profile of the thief, M Sato, an old millionaire, decides to re-enact the whole heist under the noses of his four guests. He sets out to find a guinea pig who fits the psychological profile and sets out to let him steal 300 million yen of his own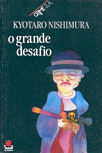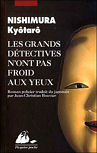 money. His sole purpose being to find a trace of the first thief by following the facts and actions of his guinea pig. The investigations of our four detectives lead to an extraordinary finale. The story is not widely translated but a French version is obtainable called Les grands detectives n'ont pas froid aux yeux as is a Brazilian edition O Grande Desafio (1992). The original 1977 book is titled Meitantei nanka kowakunai (Those famous detectives aren't afraid) and is the first in a series of four all of which have Queen, Maigret, Poirot and Akechi in them. The second part is Meitantei ga Oosugiru (Too Much Detectives), the third Meitantei mo raku janai (Even famous detectives have troubles) and lastly in 1983 Meitantei ni kanpai (Cheers to the Famous Detectives).
When researching his 1981 The Great Detectives Julian Symons not only had the privilege of meeting Fred in Larchmont. He was able to put forward an interesting theory that there were in fact two Ellery's -- the earlier one with the pince-nez and the later one post-Halfway House. He even constructed an interesting theory that the earlier Ellery was, in fact, Ellery's younger brother "Dan". Fred thought the theory was "inventive" but stated that Julian underestimated the way people change and even went as far as saying the theory was unconvincing. Julian included a pastiche "Dan and the Fair Sabrina" a story about a missing statuette called "Sabrina".


t's September 1982 when we see "The Adventure of the
Logical Successor" by J.Randolph Cox appear in Volume 32, Number 3 of The Baker Street Journal - An Irregular Quarterly of Sherlockiana. This edition of NY Baker Street Irregulars has Ellery Queen, in 1919 whilst studying at Harvard, visiting 'the Great Detective'. "On Opening the door I saw a young man dressed in tweeds and carrying a stout walking-stick. He was fully six feet in height, spare and square shouldered, and not unathletic. His eyes were those of a thinker, silver-grey in color. The one aspect of attire which seemed out of place was the pair of pince-nez eyeglasses, the lenses of which he was engaged in polishing. They were an incongruity on such an athletic figure. ...". And it has Ellery stating: "... I've read your accounts of Mr. Holmes's cases since I was a boy. My aunt brought me a copy of your Adventures of Sherlock Holmes when I was sick" and "In fact, it was probably that book that made me want to become a writer." Which of course point more in Dannay's direction than Ellery as a whole. It isn't a mystery story but reveals some of Sherlock's thoughts on Ellery Queen's future ("...both of his chose careers").
Michio Tsuzuki 's "Jiraiya in Ginza" (1982) is set in 1936 when Ellery visits Japan. When sightseeing in Ginza (Tokyo), "surprisingly", a murder takes place. Not only was the victim's back tattooed with a picture of Jiraiya (a fictional thief and wizard) but he also left a dying message… (Michio Tsuzuki is the first editor-in-chief of the Japanese EQMM)
Truly a pity that some of these stories are as good as unobtainable... Jon Breen describes "The Persian Fez Mystery" or "The Tragedy of Q" by Joe R. Christopher (1983) as one of the cleverest send-ups of the Queen style. Found in 30 copy(!) chapbook Queen's Books Investigated or Queen is in the Accounting House it reveals that Elroy Queep "..only in his novels solved the cases before the police, in real life his suggestions were always wrong..."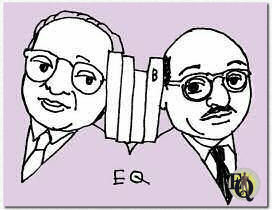 Above: Manfred B. Lee and Fred Dannay in a drawing by Aya Fukushima (Boon Fukushima) a Japanese freelance illustrator and textile designer who surprised us with this rendition of famous photograph. Click on the artist name below for his website (Picture courtesy of Aya Fukishima).
The admiration for the Ellery Queen works in Japan is unsurpassed. No small wonder several examples are found in this section. In Yuki Misshitsu, Snow Locked Room, (1989) by Rintaro Norizuki, police superintendant Norizuki Sadao is invited by, as it turns out, a female blackmailer to her guesthouse in the middle of winter. She's found hanged in a separate building on the premises. Local police treat it as an apparent suicide since the snow is trackless and the only key is inside the building itself. Convinced of foul play Sadao calls in the help of his son Rintarou Norizuki (same name as author!). There also a Norizuki volume called The Adventures of Norizuki Rintarou.... More an homage than pastiche, but close enough. (Nigel Holmes, Snow Locked Room)

As is the fact with Arisugawa Arisu (or Alice) since he doesn't actually includes Ellery in his stories but his work does include heroes with the same name as the writer and several EQ elements e.g. "dying messages", "challenge to the reader",...

The detective in his books is Hiruma, a teacher in criminology, Arisugawa plays the part of a narrator clearly based on Holmes' Watson. The titles of some of his works do clearly refer to the Queen opus. His first novel was called Moonlight Game, The Tragedy of Y '88, (1989) and books, novelettes and short stories with 'his' detective have Nation+ titles: "The Russian Tea Puzzle" (ss, 1994). (Nigel Holmes, Death in Nara by the Sea) The Swedish House Mystery (novel, 1995), "The Brazilian Butterfly Mystery" (ss, 1996), "The English Garden Mystery" (ss, 1997), "The Persian Cat Mystery" (ss, 1999), "The Swiss Watch Mystery" (novellete, 2004), and "The Morocco Crystal Mystery" (ss, 2006) (Wikipedia)
The 70th anniversary edition of EQMM had two pastiches . Edward D.Hoch's "The Circle of Ink" (EQMM, Sep 1999) placed Ellery and his married father (to Jesse

Sherwood) in a University where a murderer left an ink circle on the hands of his victims. Jon L.Breen's "The Gilbert and Sullivan Clue" lets Ellery deal with Y2K. (Click on Podcast icon to enjoy!...)

Again Edward Hoch had Ellery to revisit Wrightsville in "The Wrightsville Carnival" (EQMM Sep/Oct 2005). In the same issue we also find Josh Pachter and Jon.L.Breen's "The German Cologne Mystery" subtitled an Ellery Queen parody it had Inspector Wretched Breen brake down the unlocked door of the fast-declining Hotel Madrid's room 521. In response to a phone call from his son, celebrated mystery writer and accomplished amateur detective Celery Breen.
"The Japanese Armor Mystery" (日本木製鎧甲之謎 ,2005) by Ma Tian a Chinese New Orthodox story in which Queen has to find the answer to a few seemingly simple questions: Why was there a man dressed in a complete Japanese war armor in the garden? Why would one murder a elderly sick man who was going to die soon anyway?
Japanese Kazuo Miyamoto made his writing debut using the pen name Kaoru Kitamura. He is considered a pioneer of the "everyday mystery". Initially, because the unnamed first-person protagonist of his early works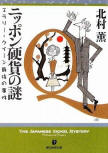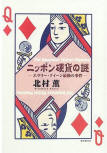 was a female college student, and the name Kaoru is gender ambiguous, it was widely speculated that Kitamura was female. This speculation persisted until he revealed his identity upon accepting the Mystery Writers of Japan Award in 1991. In itself a tribute to EQ. He didn't leave it at that... in 2005 he published a full fledged pastiche called The Japanese Nickel Mystery. Ellery Queen visits Japan at the invitation of a publisher and mystery writer, and gets sidetracked by infant killing incidents in Tokyo. The story includes a man who could change a thousand-yen bill into twenty coins of fifty yen and has our detective pointing out a relationship with a previous case.